Module 2 - Writing the Compare/Contrast Essay
Due

Feb 27, 2015

by

11:59pm

Points

20

Submitting

a file upload

File Types

doc and docx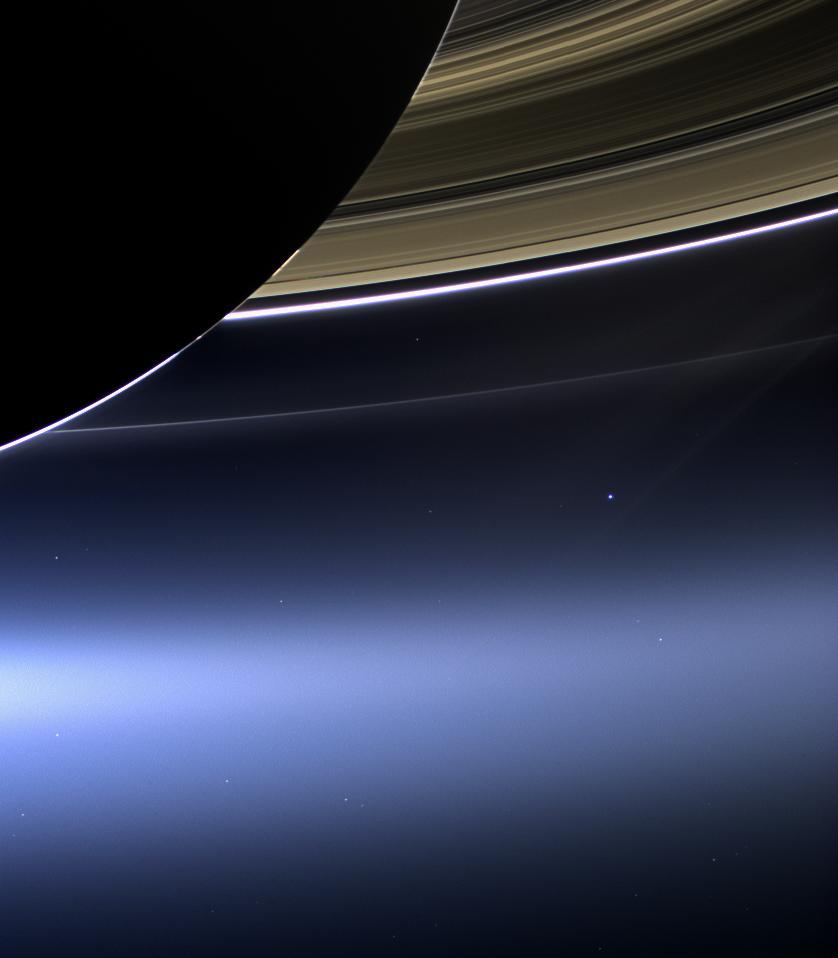 A view of earth below Saturn's rings, earth is the tiny white speck on the right.
. . .every saint and sinner in the history of our species lived there–on a mote of dust suspended in a sunbeam. –Carl Sagan
Why a compare/contrast essay?
In college, 90% of the papers students write will be in third person. This can be a struggle for some. I have students write the compare/contrast essay next because it is an easy genre for them to develop topics and ideas while they master writing in third person. Students will also need to develop clear and concise thesis statements that identify the point and purpose of their essays while breaking their subjects down into logically developed paragraphs and essays. Since we compare and/or contrast things all of the time, students will spend less time struggling to find a topic and more time working on the necessary skills to conquer this kind of paper. Here are a couple of examples. If a photographer wants a new camera, that person may contrast Canon and Nikon. If another person wants a new cell phone, that shopper may contrast Samsung and Apple. In these two examples, the writers would develop criteria for contrasting the two companies' and their products, and then based upon their criteria, they would identify which item they would purchase. This is one of the basic examples of how we use compare/contrast every day. Another way we use comparison contrast is through juxtaposition. Juxtaposition places two items close together to create a specific effect, or so readers or viewers can draw conclusions by comparing their similarities or contrasting their differences.
Understanding the basics of compare/contrast. . .
First, what is the difference between comparing two items and contrasting two items? If we want to examine the similarities between two items, we compare them. If we want to look at their differences, then we contrast them. However, there must be some basis for comparison in order to write a comparison/contrast essay. For example, I would not compare/contrast an apple with a flight attendant. I would not contrast a dog and a peanut. There must be some basis for comparing the two items. For example, the photographer who is contrasting Nikon and Canon is contrasting cameras. But, even that is vague. I would want to make sure that I am contrasting the same type of camera: two DSLRs with similar qualities: cost, number of pixels, lenses, other miscellaneous items that may be included with the purchase. If I contrast a regular Nikon 35mm film camera with a Canon Rebel DSLR, I am not going to be able to draw clear conclusions if I am thinking about buying one of them. They are completely different kinds of cameras.
The Thesis Statement
The thesis statement is the hardest and most important sentence in a paper. It identifies the topic and purpose of the paper. Thesis statements should always be written in third person. There are two kinds of thesis statements: a basic thesis statement and a listing thesis statement.
Basic Thesis Statement
Despite a slightly higher price, the Nikon D7000 is a better value than the Canon 60D.
Listing Thesis Statement
By contrasting price, image quality, shutter speed and the auto-focus system, it is clear that the Nikon D7000 provides more camera for a slightly higher price than the Canon 60D.
The listing thesis statement acts like a check list. The information should be covered in the order listed in the thesis statement. Thus, the first body paragraph would be on price, the second body paragraph on image quality, the third on shutter speed, and the fourth on the auto-focus system. You should have at least three criterion that you use to compare or contrast.
Basic Structure
There are two basic formats for the compare/contrast essay: block and point and point. Block divides the essay in half with one body paragraph covering one side the other body paragraph covering the other side. So, if I was contrasting a Nikon DSLR with a similar priced Canon DSLR, one body paragraph would cover Nikon and one would cover Canon.
Block Method
I. Introduction
II. Nikon DSLR
A. Price
B. Image Quality
C. Shutter Speed
D. The Auto-focus System
III. Canon 60D
A. Price
B. Image Quality
C. Shutter Speed
D. The Auto-focus System
IV. Conclusion
Point-by-Point
I. Introduction
II. Price
A. Nikon D7000
B. Canon 60D
III. Image Quality
A. Nikon D7000
B. Canon 60D
IV. Shutter Speed
A. Nikon D7000
B. Canon 60D
V. The Auto-focus System
A. Nikon D7000
B. Canon 60D
VI. Conclusion
Introduction
The introduction is the hook. It is said that first impressions are the most important. This is especially true for essays. You only have one opportunity to hook your readers and get them involved, so you need to look at imaginative ways to begin your papers. Some ways to introduce the topic and get the reader involved include telling a story that is related to the topic, ask a question and the thesis answers it, ask a rhetorical question that has no answer but introduces the reader to the subject matter. The final sentence of the introduction is the thesis statement.
Begin with Narrative - contrasting bike frames and componentry
I used to bike race both mountain and road bikes. If I was writing a contrast essay describing the differences between mountain and road bikes, I could describe what it is like to race down a hill doing 50 mph.
Begin with a question - topic - choosing the best smartphone
So, which is better, the Galaxy S5 or the iPhone 5s?
Begin with rhetorical question - contrasting two Vegas resorts
Does what happen in Vegas really stay in Vegas?
Conclusions
Conclusions utilize short sentences that address key points in the essay. Tie the introduction to the conclusion. If you began with a quote, refer to that quote again and draw more conclusions from the information. If you began with the story, go back to the story to draw final conclusions from it. If you began with a question that can be answered. then return to that question and answer it.
Online Textbook and Readings
Power Point Lectures
The thesis statement is the sentence or sentences that identify the topic and purpose of the essay. See the presentation below or download it.
Formatting the Compare/Contrast Essay
Be sure and utilize MLA formatting for the paper:

1" margins all around the paper.
Double spaced
A header on the top right hand corner 1/2" from the top of the paper should include:
Last name and then leave a space and the page number
On the first page on the left hand side include:

Your full name
My Name
Course Title
Date

Be sure and type both the rough draft and final essay.
Click on the image below to see the full-scale version of the first page of an MLA formatted paper.
Wolff, Tobias. "On Being a Real Westerner." Radford Universeity. Web, 8 July 2013.
Writing the Comparison/Contrast
Write a 2-3 page comparison/contrast essay

Choose a topic suitable for college;
Avoid contrasting motorcycles and cars, cats and dogs, Pepsei and Coke;
Choose a topic that you already know a lot about;
This essay must be in third person;
It should be about 2 pages long;

Once you have written your rough draft, upload here.
Then click on the 'Next' button.
Use the "Editing Sheet" on the next page to edit your paper. The questions on the edit sheet are designed to help edit your paper and catch common mistakes that students make.
Compare/Contrast Essay

Students will learn to read critically and evaluate professional compare/contrast models.

Students will improve writing skills through a step-by-step process.

Students will use a third person point of view.

Students will present a thesis statement at the end of the introductory paragraphs.

Students will present the information in a well-organized and logical structure.

Students will support the thesis statement by utilizing vivid details and examples for each side.

Students will word process their papers using programs such as Microsoft Word.

Students will format their papers according to MLA Guidelines. See Purdue OWL example.
Click the "Submit" button and follow the directions for submitting your work.
compare/contrast essay

Why a compare/contrast essay? Students learn to differentiate between two or more objects seeing how they are similar or how they are different. Writers must choose item that have a "basis" of comparison (something that they both share in common) before they can see the differences between them. For example, I could contrast apples and oranges because they are both fruit, or I could contrast Dell computers with Apples because they both are brands of computers. "Fruit" or "computer" would be the basis in comparison for each of these topics.

Comparison/contrast is important because it is a useful tool for critical decision-making. Whether you are buying a new car or choosing a university, it is important to master the art of this critical writing and thinking skill.

Note: you do not have to write on time and money management skills. I am using this topic as an example.
Assignment in 4 or 5 paragraph format
For example, I could compare time and money management skills. I would show how these two skills are very similar. Then I would state in my conclusion why these skills are important.


step one
Begin by creating a list of the similarities and differences between the two skills. I could create a table to show this.

step two
Under each item, I would list the steps and skills I have learned for budgeting time and money.

step three
Write specific details, definitions, observations, examples for each item.

step four
Examine both sides and see how they are similar and how they are different.

step five
Free write on this topic.

step six
Transform the topic into a guiding question?
How do time and money management skills impact student success?

step seven
Next compare your guiding question with your free write.
Write a thesis statement that answers your guiding question.

step eight
Using this as an example, pick a topic and use the above steps to create a rough draft.

step nine
Either edit the paper yourself or have someone else peer edit it using the peer edit sheet in assignment 5.

This work is licensed under a Creative Commons Attribution 4.0 International License by Lynn McClelland.